Celebrities – Rock and Roll's office walls are covered with celebrities photos & memorabilia from Television, Movies, Music, Sports, Racing and Legends of the Automobile, Motorcycle & Customization industries.
These are just a very small sample of the pictures that hang, ceiling to floor, on our "Wall of Fame". We do mean a very small sample.
Gallery Pages:
Main Gallery | Autos | Art Panels |  Bandana Set | Biker Babes | Boats | Christian | Eagles | Flames | Geiger and Skulls | Graphics | Helmets | LED Tail  Lights | Miscellaneous |  Murals | RV and Trailer | Sand Rails | Sport Bikes | Theme Bikes | Trucks | Victory Motorcycles
Chuck Zito | Indian Larry | Danny Bonaduce | Larry Hagman
George Barris | Butch Patrick | Mickey Jones | Michele Smith
When Michelle Smith, host of Speed Channel's American Thunder, sought to customize her "Vendetta" by Vengeance Motorcycles for an episode of the show, she chose Rock & Roll Custom Paint to put the finishing touches on her dream bike. Michelle desired a solid Cobalt Blue with "One Off" Double Bladed Tribal graphics in silver.
"To Randy at Rock & Roll…Thanks for a
beautiful killer paint job! Love…"
-MICHELE SMITH
http://www.americanthundertv.com/

Rock and Roll Custom Paint on The Discovery Channel



Rock & Roll Custom Paint has been featured on several of today's hottest, hippest and most outrageous Biker Lifestyle & Vehicle Customization shows on television. We have been featured on Speed Channel's program American Thunder twice. You may have seen us on TLC, Discovery Channel or Spike TV being featured in Chip Foose's program OverHaulin'. Or maybe on Speed Channel's program Meguiar's Car Crazy filmed at the 5th annual Cruisin' For A Cure charity event where our Double-Headed Mini Cooper with Jacuzzi was the center of attention. The one of a kind Mini Cooper customization was chronicled on The Discovery Channel's program The Kustomizer with Vini "Big Daddy" Bergman.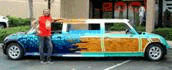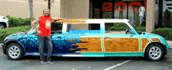 On an upcoming episode of The Kustomizer, an old Army helicopter is transformed into a limousine. If you were at this year's (2005) annual Sturgis Bike Week Rally held in South Dakota, then you got a sneak peek at the "Limokopter" as reported by the Sturgis Rally News.
"If you saw "The Kustomizer" on Discovery last year, you know that Rock & Roll Custom Paint are some wild and crazy guys. This year they're bringing the Discovery film crew with them as they drive in from California – in a helicopter customized as a limousine."
The Kustomizer / Discovery Channel Official Poster for The Limokopter Episode.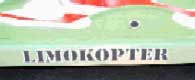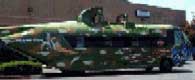 Rock and Roll Custom Paint -By Appointment Only
-Orange, CA – (714) 744-0631
Hours: Mon. thru Fri. 8 am – 5 pm Sat 10 am – 2 pm